Happy New Year, everyone! I hope 2011 brings good fortune and a happy, healthy year to you and your family
My challenge this month is a "recipe" challenge with a twist! At the beginning of a new year, a lot of us often make goals to clean and organize for the new year, especially after all the Christmas decor is put away, right? Even if you're not a cleaning and organizing kind of gal this time of year, my challenge is still one that will help you use what you have AND make room for new goodies in your space
Here's the challenge:
1. Use something OLD. By that I mean it has to be something you've had in your stash since you started scrapping or before (like old photos).
2. Use something you JUST purchased. I mean your very, very newest tool, paper, etc.
3. Use something you have A TON OF, but don't seem to use very much anymore (or ever) to help clear it out.
4. Use something you have a TON OF and use all the time. You have a lot because you love this one thing! Use it so you can make room for MORE!
Make sense?
Here's my layout and then I will describe what I used for the challenge below: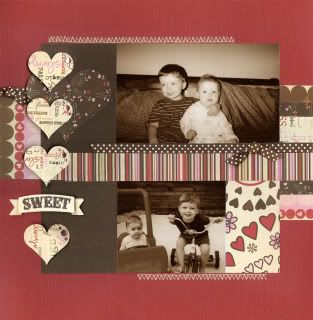 1. Something OLD - these photos of my cousins. They are from 1998!
2. Something brand NEW - patterned paper from my January Back Porch Memories kit. Coming soon to your mailbox (this is in the Medley)!
3. Something I have a ton of that I DON'T use often - rub-ons. Gosh I have a ton. I used the stitching rub-ons I've had forever.
4. Something I have a ton of that I DO use - bling! On the hearts (it might be kind of hard to tell in my scan)
Completed challenge entries should be uploaded to our "January Challenges" folder in the gallery. All challenge entries for the month will be entered into a drawing for a prize! The more challenges you complete this month, the more chances you have to win. And yes, you can enter more than one challenge and enter more than one entry for each challenge!