Hi, ladies!
How about a new challenge for July?! What do you say to that?! YAY!!!
I asked a few weeks ago in our general scrapping forum what your favorite types of challenges are. A lot of you said you like "recipe" challenges. So that's exactly what this challenge is!
I want you to create a layout, card, or some other paper crafted project (anything goes) that uses the following:
1. flower(s)
2. rub-on(s)
3. brad(s)
4. at least 4 patterned papers
5. fiber (ribbon/thread/twine - something like that)
Here's my example, this "J is for Joyful" card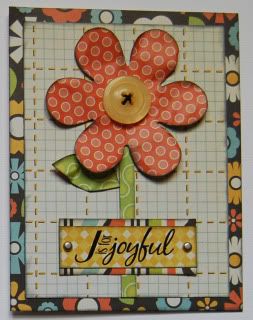 Completed challenge entries should be uploaded to our "July Challenges" folder in the gallery. All challenge entries for the month will be entered into a drawing for a prize! The more challenges you complete this month, the more chances you have to win. And yes, you can enter more than one challenge and enter more than one entry for each challenge!