what is the first thing you do when you open up a kit? I always look at the packaging to see what I can re-use on my layouts. everyone wants to make the most our of their kit, right? when I opened up my October Medley kit here at BPM, the first thing that I noticed was the packaging on these Bo Bunny jewels. how perfect was this packaging to cut out, and use with the jewels?

here is the layout I completed using the packaging: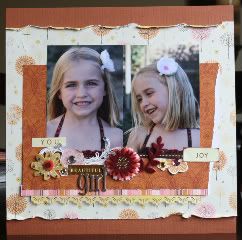 my challenge for you this month is to create a layout or a card using the packaging from an embellishment. use your imagination, there is so much out there to be used!
Completed challenge entries should be uploaded to our "November Challenges" folder in the gallery and linked to this thread. All challenge entries for the month will be entered into a drawing for a prize! The more challenges you complete this month, the more chances you have to win. And yes, you can enter more than one challenge and enter more than one entry for each challenge!
Can't wait to see what you do!