A few years back I made a card using fabric. I saw a similar idea in a magazine and thought I would give it a try. I actually made a mass amount of these with my friend. I seems two hands make it go quicker!!
I just tore strips of fabric and trimmed them into different sizes and then attached them with a tape runner. Sounds like a lot of work but the ripping got out a lot of frustration and the taping on went fairly quick.
Here is the card: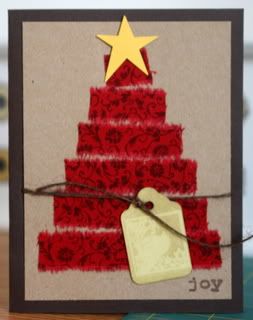 So I challenge you this year to try something new with your cards. Be creative. If you have already started making your cards, show us!! We want to see!!
Happy scrapping!
_________________
Danielle P. ~ Marietta, GA ~ scrapping since 1998