My tip this week is a quick tip for stitching titles! It's so simple.
(Excuse my pictures...I had horrible lighting.
)
First print your title out on a scratch sheet of paper and tape it down onto the paper where you want your title.
Take a sharp needle and poke holes in your title.
Then underneath your left with a nice clean guide to sew your title onto. Sew your title with a full six strands of DMC floss for nice thick letters.
And there you have it. I hope you'll be able to use this technique! You'll have to wait until the design team reveal on the 10th to see the whole LO!!
_________________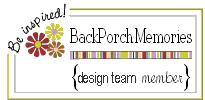 My Blog
Numbers 6: 24-26
Karry - Northeast GA - Scrapping since 2006