I don't know about you, but I thought the Bazzill buttons in this month's Medley kit were ADORABLE! And they go with everything! I admit, I'm a bit fastener-impaired, so I wasn't sure how I was going to deal with their height. I've always avoided buttons with shanks for that reason.
I really wanted to nestle them in with the equally cute and thick Maya Road blossoms, so I "dug a hole." I used my Cropadile to punch a hole in the page and pushed the button shank through to the back where I secured it with a paper clip that I taped into place.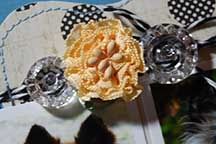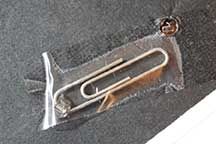 In the process of using a paper clip that was too thick, I snapped part of the shank right off one of the buttons. I used a wire cutter to finish the job...no harm done to the button. I could then glue it to the front of my dad's birthday card (where the taped paper clip isn't such a good look).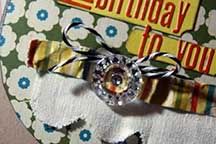 So the moral of this story is....DON'T FEAR THE SHANK! These buttons are sweet and versatile and go with just about anything.