Better late then never, right? We're in the midst of a two week vacation with a combination of family and friends visiting. My dad and nephew went home yesterday morning and our friends are enjoying a day in Denali National Park. It's a quiet day in the Eastman home, so I can get a few things done and do laundry before our friends return to Fairbanks tomorrow. On Tuesday I was driving from Valdez to Fairbanks, so no internet connection for me!
I enjoy Cathy Zielske's and Ali Edwards' blogs, and I own a fair number of digital elements from both. I haven't used them as cut-files, but I've seen it done and it's adorable! I consider myself a paper scrapper - the only digital pages I do are for Project Life. Because of the nature of PL, most of the "embellishing" I do is on the photos themselves. So these techniques can translate easily to paper scrapping.
I used Photoshop Elements to apply the cute word art and elements to the photos. The elements come in black, so I re-color them white by reversing the black/white button on the lower left of the PSE tool bar. Then use the bucket. Drag the element to the photo and fiddle with it until it fits. Click on that layer in the palate and work with the opacity slider to get the look you're looking for. In most cases, the white is too stark and detracts from the photo. I reduced the opacity just a little to soften the "hello summer" over the hanging basket, and I reduced it to about 25% to get the watermark look in the soccer photo. The opacity on the arrow with my kitty is about 35%.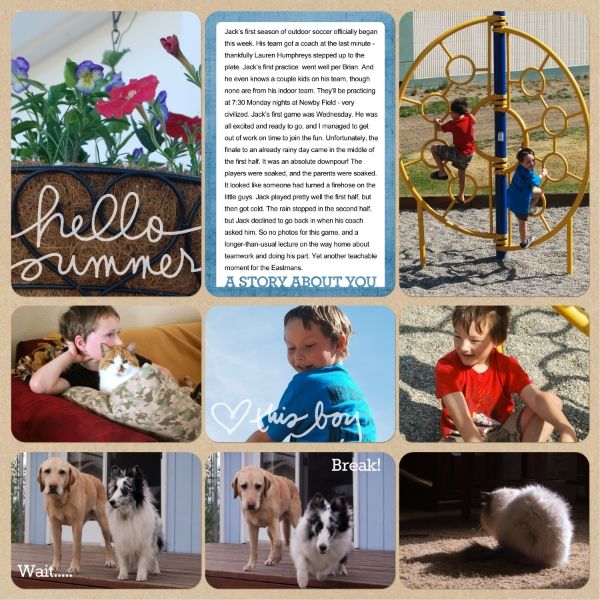 The elements I used on theses pages are from Ali Edwards (cursive words) and Katie Pertiet (arrowed frame) and can be purchased at
www.designerdigitals.com
. They're great additions to my hybrid stash!