This was a fun and easy little project! This would be a lot of fun to have let the kids do. Maybe next time!
I took an old insurance card and modge podged it. Then trimmed out my patterned paper to fit it.
I love working with modge podge because it drys so darn fast! Once it was dry a little bit I sanded the edges so they would be a little smoother. Added the picture and their names...just a little sliver of tape for decoration.
Then modge podged over the top of everything.
_________________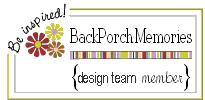 My Blog
Numbers 6: 24-26
Karry - Northeast GA - Scrapping since 2006