Signed, Sealed, Delivered
Challenge/Class Due: Saturday, May 21st at midnight EST
I don't know if anyone has noticed yet, but I am in love with mini-albums! They are all over my house, and some have overflowed to my friends homes! They are just so fun and I find it a challenge each time to not add to much to an album. I am an embellishment junkie!
So for the class today, I am going to show you how to make a mini-album out of envelopes. Here is the supply list:
Five invitation size envelopes
Patterned paper and cardstock
Coordinating embellishments
Ribbon
Red-liner tape
This is going to be really easy and fast. Are you ready??? Let's begin!
This first envelope will be placed on your workspace with the opening facing up. Fold the flap under the envelope. We will use this flap later. Place the second envelope with the opening facing down.
Tuck the second envelopes flap into the first envelopes until the scored edges touch. You may want to put a little bit of adhesive on the flaps to keep them in place. In mine, I did not. They are staying in place just fine without it!
Fold the second envelope over so that its opening it facing up.
Repeat the process until it looks something like this.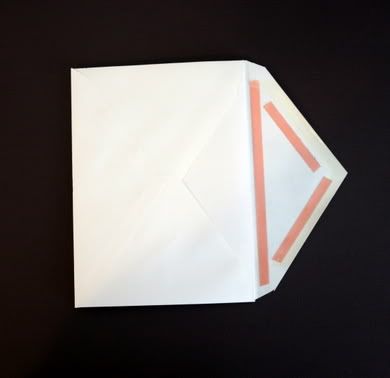 Now unfold the flap from the first envelopes. Place your red liner tape all over the flap. If you don't have red liner tape, any strong dry adhesive will do. It doesn't show in the photo, but I ended up putting extra adhesive where it folds over the edges of the other envelopes. It made the binding of it stronger. After applying the adhesive, fold the flap over the fifth envelope and attach.
It should hold together and look like this.
Add your cardstock, patterned paper and photos. Depending on the size of your envelopes your measurements will be different. Don't forget to cut some cardstock to slide into the envelope itself.
Here is the finished product:
This is the front. I used the Salty Air line from Cosmo Cricket.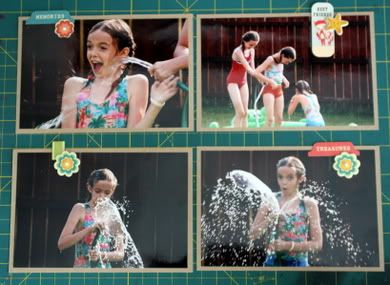 These are the inserts that I put inside the envelopes.
Page one and Page two.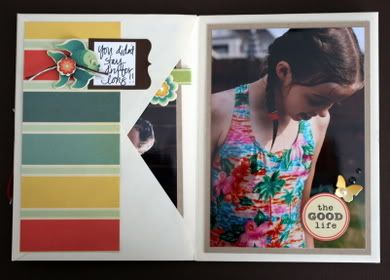 Page three and Page four.
Page five and Page six.
Page seven and Page eight.
This is the backcover. I always leave it blank and sign and date it. Just helps me remember when it was made.
Now it is time to see what you come up with. I can't wait to see it. Add as little or as much as you want. Ink it, paint it, distress it! There are so many possibilites. Happy scrapping and let me know if you have any questions.
Now it's your turn! Complete this class and upload it to our gallery in the proper folder (Signed, Sealed, Delivered) under "May Crop Challenges & Classes" by Saturday, May 21st at midnight EST.
You may enter up to THREE projects per person, per challenge. Two page layouts count as one entry, even if you upload each side separately. Projects must be NEWLY CREATED specifically for this challenge. You cannot combine challenges.
_________________
Danielle P. ~ Marietta, GA ~ scrapping since 1998