I've been gone so long that's really what I feel like my first post back should be! I've missed y'all so much!! Thanks so much for being patient with me. It's been the toughest 2 months my life!!
First...2 months ago I found out that my boss, a mother figure to me. A lady I had worked side by side with for the last nearly 6 years was a lie, a thief and a cheat. She had been stealing from everyone that she could. She stole money from our community, (she was the treasurer for both the young farmer's association and the chamber of commerce) she stole from our agency managers personal checking account...the list goes on and on. The worse part is that over Easter break she told us that she had cancer. She told me that she had uterine cancer, she told the agents that she had pancreatic cancer. (She also told each of us that she hadn't told anyone else about it yet)
That was a real shocker. I couldn't sleep, I cried all the time. lol Work was awful, I was doing my job, plus hers. We had auditors crawling everywhere. It took a good month or better before the new normal started to settle in. Then the week before last...I found out that I got passed over for the promotion. Say what? You could have blown me over with a feather. I felt like I was a shew in. I guess that's what I get for being so confident. They transferred an office manager from a few counties over into our office. She is a wonderful lady and I know she was the best choice for the position, but that still didn't ease the sting any.
I've prayed and I've prayed. That is the one thing I can say that has been good about this past few months...I have prayed more and became so much closer to God. It seems every time I turn around I'm having either a spiritual revelation or praising this or pleading for that. That's been wonderful hearing His voice SO much in my life these months. I don't know what I would have done if I hadn't had such a close relationship with God to begin with. He has definitely been my crutch. I know without a doubt that he has sent me through this to break me down and open my eyes that he has something else in store for me. So Friday I took a leap of faith and quit my job. I thought I would be giving a two week notice...but nope. I'm done.
In this economy most folks would say I'm just plain stoopid....but my husband and family support me. (Which also confirms to my heart that this is what God wants me to do.) I'm excited and nervous. Pray for me! I hope I find the perfect job...and I really plan to enjoy this time of transition!! Yay me!
I will be here like normal now. I'm so excited. There isn't much now to keep me away!! yay! (Except for maybe a pile of laundry or something. lol ) I can't wait to catch back up!!
_________________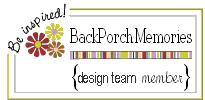 My Blog
Numbers 6: 24-26
Karry - Northeast GA - Scrapping since 2006