We just got back last night from Myrtle Beach. The beach was fun, but exhausting! I took over 600 pictures in 8 days. lol It's nice just to sit home with nothing planned for the evening but relaxing. I really wanted to scrap...but I'm just too exhausted! Every day of our vacation was just slammed full with one thing after another. We went to the local amusement park 5 times and the water parks I think at least 4 times. We went to the pool everyday and the beach every day. Especially in the evening...that was our favorite beach time. It was cool and a lot less people...my husband couldn't resist it and went and bought a fishing rod and fished every night off the beach while the girls played in the sand and I sat in the beach chair reading. *I need a thumbs up smiley* It was nice...but it sure is great to be home!
Here are a few of my favorites!
This was the view from our room. I never got sick of it and took way too many pictures from our balcony. lol
We went on a dolphin cruise. That was a lot of fun. The dolphins where busy feeding...so they weren't very entertaining and I didn't get a lot of great pictures...but they where still so fun to see. And we saw dozens and dozens of them.
This one, bless it's heart, looked pretty beaten up!
_________________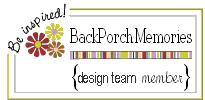 My Blog
Numbers 6: 24-26
Karry - Northeast GA - Scrapping since 2006